Ten Thousand Islands , Florida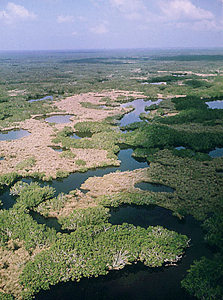 The Ten Thousand Islands is the coastal area in the Everglades National Park where mangrove islands and shallow creeks make a wilderness maze. Some of the islands are landmasses called keys but many are clumps of mangrove trees rising out of coral reefs, oyster beds, and sandy shoals. The area lies southeast of Naples and northwest of the Everglades National Park. The many islands form a transition from the freshwater marsh of the "river of grass" to the open salt water of the Gulf of Mexico.
Marco Island is the largest of Florida's Ten Thousand Islands, located on the Gulf of Mexico in Southwest Florida.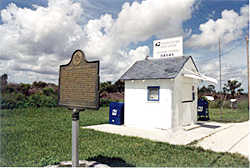 The post office at Ochopee, Florida, our nation's smallest, is a regular stop on the south Florida tourist circuit.

The Ten Thousand Islands Refuge
The Ten Thousand Islands Refuge, established in December 1996, is located 20 miles southeast of Naples near Goodland, Florida. It emcompasses 35,000 acres in the lower end of the Fakahatchee and Picayune Strands of Big Cypress Swamp. It has over eight thousand acres of mangrove making it one of the largest North American estuaries. The remainder of the acerage is divided between 16,000 acres marine water, 11,000 acres freshwater marshland and other habitat. The refuge is used year round by manatees and sea turtles and has large concentrations of endangered wading birds including wood storks, water birds, shorebirds. Roughly 200 species of fish have been documented in the area and much of the sea grass beds and mangrove bottoms serve as vital nursery areas for marine fish
Public Use Opportunities:
Fishing.
Hunting.
Wildlife Observation.
Photography.
Wildlife Viewing Trail.
Camping.

The refuge is located approximately 20 miles southeast of Naples, Florida, on the south side of Highway 41. The wester boundary lies along county road 92. The Gulf of Mexico borders the southern boundary, and the eastern boundary lies just west of Everglades National Park, and FAKA Union Canal in the northern portion of that boundary.

The refuge is largely wetlands, a boat is the best means to get around the refuge. Boating is a must for fantastic sportfishing in the backwaters. Boat ramps are located in Goodland, Florida and Port of the Islands Resort on the Faka Union Canal. Commercial boat operators (tour guides) are available in these areas too.